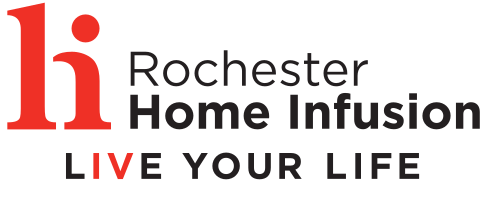 (phn) 507.316.0001
(phn) 855.370.4246
(fax) 507.258.5522
Our Approach
OUR COMPREHENSIVE INFUSION CARE MODEL INCLUDES:
We prepare your IV medication in our state-of-the-art clean room
Our expert clinicians provide individual patient counseling, education, and training
Our clinical pharmacists are skilled in drug monitoring for a wide range of disease states and conditions
Our clinical nurses are the best in teaching IV care for infusion patients
Our clinical team regularly monitors your laboratory results and assesses your clinical progress
We collaborate closely with your physician team

We take a consultative approach with your medical team to achieve the best medical outcomes for you.
We speak directly with your physician team to update them on your medical progress.
We have a clinician on call 24/7 and we can connect with your physician 24/7 to assist us with areas of medical concerns emerging medical concerns or questions.
COMMON INFUSION THERAPIES WE SUPPORT AT HOME INCLUDE:
Antibiotics, Antifungal, Antivirals
Cardiac Inotropes
Home Parenteral Nutrition
Transplant Therapies (E.g. Magnesium, Ganciclovir, AmBisome, Nulojix)
Pain and Palliative Care
Immunoglobulins (IVIG and SCIg)
Inflammatory Bowel Disease Therapies (Remicade, Entyvio)
Hydration